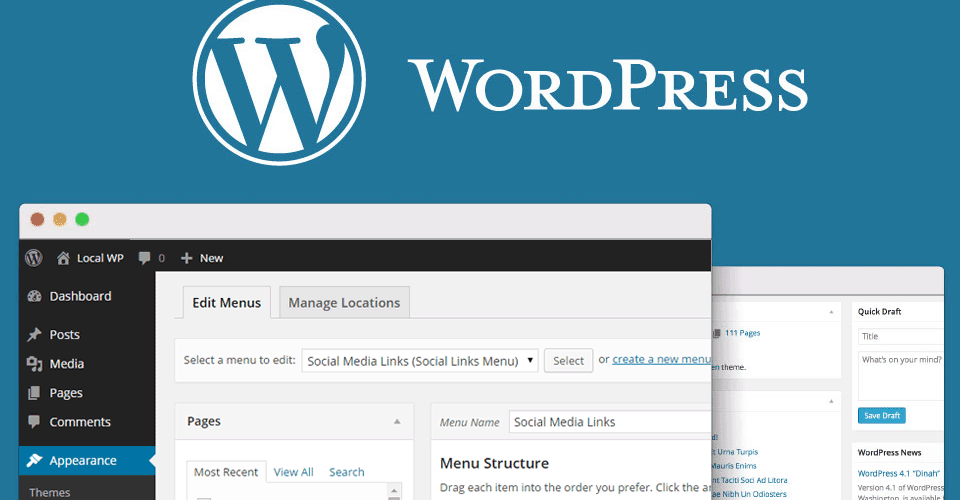 WordPress, the most used content management system in the world, powers over 75 million websites and is the platform of choice for over 25% of the top 10,000 websites. Companies use it for all the reasons you'd expect: its ease of use, flexibility, and robust design and development options. Here are 6 reasons why we think WordPress is the non-disputed king of small business website platforms.
---
1. WordPress allows you to accomplish a lot with little time
When creating a website, the first thing we always consider is this: What do we want it to do?
Once we have all that planned, getting a site online is fast and can be easily done using WordPress! The open source CMS (content management system) platform features a versatile user interface and a user-friendly drag-and-drop interface, allowing developers to accomplish a lot with little time.
2. WordPress is SEO-Friendly
Web design is a very broad term, and encompasses a lot of different skillsets. On the flip side, SEO is a very narrowly defined set of tactics that can improve a site's search engine rankings based on its content and platform. While good SEO and design are not mutually exclusive, it's usually complicated and very costly to implement both from scratch.
And it's not easy either, especially if you don't have much knowledge of search engine optimization. But WordPress is one of the best SEO friendly platforms you can find. It comes with pre-built features that help make websites more SEO friendly. If your main concern is how to improve your Google ranking and gain traffic, WordPress is a no-brainer.
3. WordPress is secure
As a web development agency, we are often asked by clients about web security. These type of questions are very common and for good reason. When a business is brought online, it brings with it multitudes of customer data and confidential company info such as finances and inventories.
This is why we chose WordPress as our content management platform. WordPress is safe as long as website owners take protection seriously and adhere to best practices. Using secure plugins and themes, maintaining responsible login procedures, using security plugins to track your site, and updating regularly are all good practices. This is also why we highly recommend you stick with our security and maintenance programmes.
The platform is also protected by various measures, such as a WordPress Security Team. About fifty professionals, including lead developers and security researchers, make up the security task force. Automattic (the company behind WordPress) employs about half of these specialists. Others are involved in web security, and the group consults with security analysts and hosting firms regularly to discover vulnerabilities.
Although no content management system is truly safe, WordPress' core software is well-protected. The majority of hacks are the result of webmasters failing to obey basic security best practices (and not faults in the system itself).
If you're a Webina client, you won't have to worry. Apart from additional security suites and backup measures in place, if on an off chance your site is hacked, we'll fix it for free!
4. WordPress has great support
WordPress is a widespread tool and used by site owners worldwide. It is this popularity that has brought great conveniences to finding support for your WordPress-related woes. For starters, you can always look for help in:
Official sources: Admin Help, WordPress Codex, The Developer Handbook
The WordPress support forums.
Support pages for individual WordPress themes and plugins.
Forums, groups, and channels like Stack Exchange, Facebook and LinkedIn Groups About WordPress, Slack, Reddit.
Of course, Webina clients don't have to worry about support as this is included in your package as part of our web maintenance services. One of the perks of having an agency support your back!
5. WordPress is mobile and tablet friendly
If you have been reading through our site, you'll know that one of my favourite topics to write about is responsive web design! Whether it's a client or one of our team here at Webina, I can't help getting all evangelical about it. It's just a win-win for everyone—users get a site that's easy to use and to browse, that displays beautifully on any device, and you get a site that's useable across desktops, laptops, tablets and smartphones.
It's hard to imagine any website that isn't optimized for mobile browsing these days. It's become a standard component of any user experience to be able to view a website's content on a smartphone. Thankfully, WordPress manages to handle this easily. While there are two different layouts for WordPress mobile and non-mobile, both are easy to use and work well.
6. WordPress lets you easily update your website without our help
Because WordPress is so easily editable and user-friendly, clients can update their own websites without incurring extra costs by asking a third-party (such as Webina) to do it for them. Content can be added to a WordPress website in one of two formats: as a Page or as a Post. Both are excellent ways to update content on your site for your customers to view.
Webina offers free training to help you familiarize with your site's controls and how to operate them, should the need arise. This is part of all our packages.
April 8, 2021
By:Adminwebina
Categories:Websites
no comments